RONALD BERGER

APPLE & ORANGE

ORIGINAL OIL PAINTING
Image size 5.5" x 4.5" plus frame.
PRICE framed £475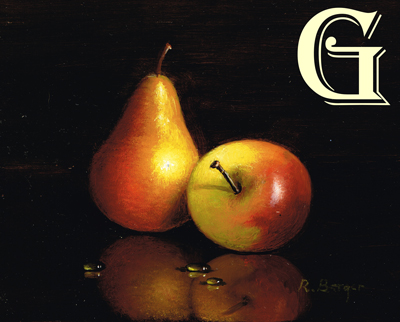 APPLE & PEAR

ORIGINAL OIL PAINTING
Image size 5.5" x 4.5" plus frame.
PRICE framed £475

CHERRIES IN GLASS BOWL

ORIGINAL OIL PAINTING
Image size 5.5" x 4.5" plus frame.
PRICE framed £475

FIZZ & FRUIT

ORIGINAL OIL PAINTING
Image size 5.5" x 4.5" plus frame.
PRICE framed £475

LEMONS IN A BOWL

ORIGINAL OIL PAINTING
Image size 5.5" x 4.5" plus frame.
PRICE framed £475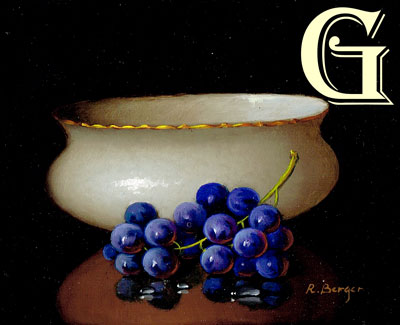 GRAPES AND A BOWL

ORIGINAL OIL PAINTING
Image size 5.5" x 4.5" plus frame.
PRICE framed £475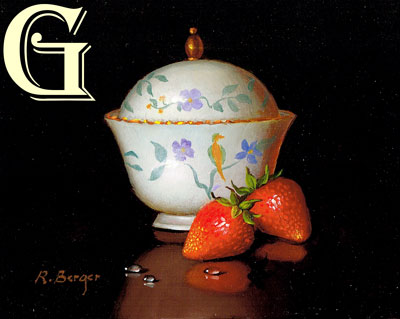 STRAWBERRIES AND A PAINTED BOWL

ORIGINAL OIL PAINTING
Image size 5.5" x 4.5" plus frame.
PRICE framed £475

A PORCELAIN DISH WITH FRUIT

ORIGINAL OIL PAINTING
Image size 5.5" x 4.5" plus frame.
PRICE framed £475

TOMATOES

ORIGINAL OIL PAINTING
Image size 5.5" x 4.5" plus frame.
PRICE framed £475
Ronald Berger was born in 1943 in Salzburg (Austria). Several famous actors make part of his family and a Hungarian uncle was a painter. He very much impressed the young boy.
After qualifying for university he began studying painting privately. Later on he was a pupil of Professor Knapp and Professor J Steiner. During these studies he visited museums in Italy, Spain, France and the Netherlands to study the technique of the old masters.

The first exhibition in Vienna was a great success, others followed in Kitzbuhel (Austria),
Dusseldorf, Germany and London.
With his precise style of painting and his perfect old master technique he has many collectors.

WE ARE SORRY BUT, WE ARE UNABLE TO OFFER AN ONLINE
OR E MAIL APPRAISAL OR VALUATION SERVICE


Stephen Farnsworth,
Grimes House, High Street, Moreton-in-Marsh, Gloucestershire,
GL56 0AT, England
Tel +44 (0) 1608 651029
Email grimeshouse@gmail.com